Potty for Potter – Locos por Harry Potter
2017 marks the 20th anniversary of the first publication of the world changing Harry Potter books.  Madrid is getting into the spirit of things with a special Harry Potter exhibition starting this month and running until the end of January at the IFEMA, Feria de Madrid.  This exhibition will be displaying props from all 8 of the Harry Potter films.  On top of that, if you walk around the centre of the city at the moment you can stumble across some Harry Potter statues, including a bigger than life-size Dobby the House Elf, and the flying car that Harry and Ron famously return to school in at the start of their second year.
In the twenty years since J. K. Rowling first introduced us to the world of Harry Potter, it has gone on to become so popular it has even been officially incorporated into the English language.  Since 2002 you've been able to look up the word 'muggle' (a non-wizard / a person who lacks a particular skill) in the Oxford English Dictionary.  Then, in this year's Oxford English Dictionary update another Harry Potter term: 'quidditch' was added, reflecting the popularity of the sport now being played as a real, non-fictitious game.
This means that J. K. Rowling joins other famous authors, such as Roald Dahl and JRR Tolkien, to have their invented words cross over into the English library.  Dahl's entries into the dictionary include 'golden ticket' and 'oompa-loompa'. While Tolkien has contributed, 'hobbit', in reference to his invented fantasy characters who are small in size, have hairy feet, and are good-natured people.
Finally, for any of our Harry Potter fans at the academy see how you get on with this quiz that tests your knowledge on the characters from the books and films, at the same time as practising your English…
Vocabulario de interés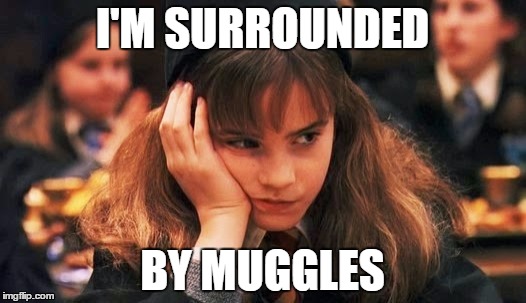 (adjective – informal) potty: extremely enthusiastic about something
(expression) to get into the spirit of things: to join in and participate
(noun) prop(s): objects used in films and TV
(idiom) on top of that: in addition
(phrasal verb) to stumble across: to find or meet something or someone by chance
(phrasal verb) to look up: to search for information
(verb) to lack: to be without of deficient in something
(phrasal verb) to get on: to be successful